When to Move from Assisted Living to Memory Care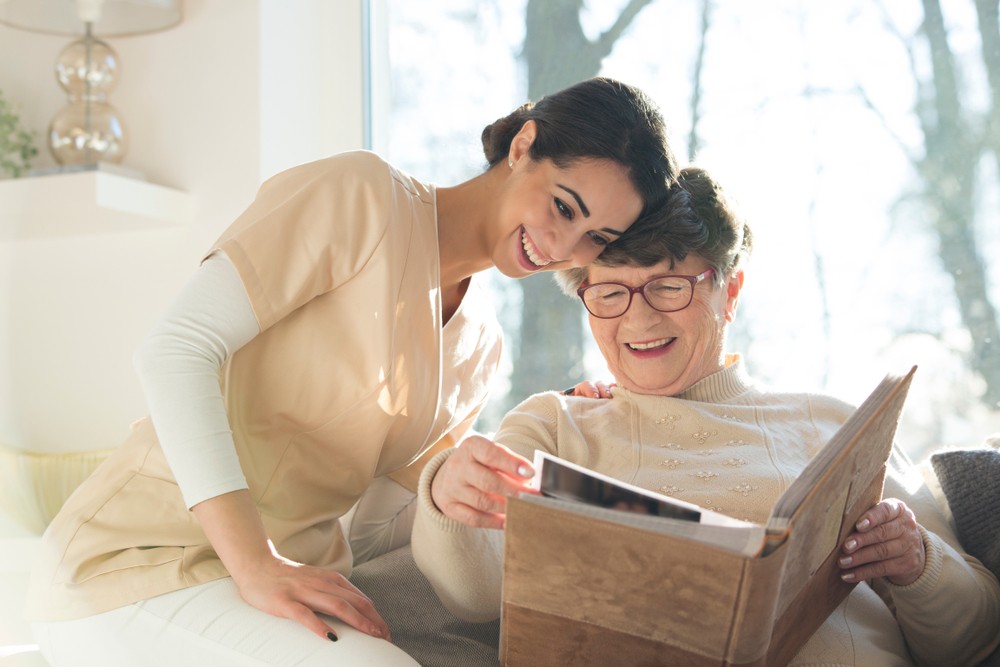 When your loved one struggles to live safely at home or has a difficult time performing activities of daily living, long-term care is the best solution. One of the biggest challenges you'll face is finding the right level of care for your family member, especially if they have Alzheimer's or another form of dementia.
Assisted living and memory care are two common senior living options, but what's the difference and which one is right for your family member? Our experts have the answers to your questions, so you can choose the right care for your loved one with confidence.
What Is Assisted Living?
An assisted living community is a long-term residential care community where seniors can remain as independent as possible while receiving  personalized help with daily tasks like getting dressed, using the bathroom, or managing medications. Residents design their own schedules and are free to come and go as they please.
While an assisted living apartment is likely to be smaller than someone's private home, there is still space for cozy furniture and plenty of room to move around. The assisted living apartments at South Port Square senior living community feature an open living space, walk-in showers, kitchenettes and an area for a small dining table.
What Is Memory Care?
Assisted living services are given with the philosophy of only giving individuals help when they need it, without an expectation of constant care. Memory care is for older adults with Alzheimer's and other forms of dementia who need round-the-clock care and supervision to live safely.
There is less focus on independence and more focus on creating and keeping memories, celebrating existing abilities, and creating a secure environment that lets your loved one experience the world in their own unique way.
Residences in memory care are usually small to prevent disorientation, but large enough to easily move around without falling. While there may not be kitchenettes or space for a dining room table, the floor plans in memory care can still fit a cozy armchair and a comfortable bed.
Safety Is a Top Priority in Memory Care
A top priority in memory care is to provide an environment where seniors with dementia can age safely. Along with safety features like keypad entries and 24-hour security, communities also have enclosed courtyards, gated gardens, and motion sensors in rooms to alert staff when a resident falls or is wandering.
Signs It's Time for Memory Care
No two people are alike, and there's no specific formula for knowing when it's time to move from assisted living to memory care. Many seniors in the beginning stages of dementia can live semi-independently in assisted living communities.
The primary reason to move a loved one to memory care is to preserve their safety. If your mom or dad is showing signs of wondering or experiencing sudden falls, it's most likely time to move them to memory care.
Here are more common signs your loved one with dementia may need another level of care:
Aggression
Combativeness
Difficulty speaking
Incontinence
Memory loss or confusion
Mobility issues
Poor hygiene
Repeating themselves
It's important to consider your family member's current abilities and to monitor for changes over time that could signal they need more hands-on help from memory care professionals. Talk to your loved one's care team about any physical, mental or emotional changes you observe.
Memory Care Offers Enriching Services and Amenities
Many people think moving a family member into memory care means long, boring days alone inside their apartment, but it's quite the opposite in a modern memory care community. Here are just a few programs at South Port Square to enrich your loved one's life and keep them social:
Access to appropriate community amenities such as the beauty salon/barbershop and fitness center
Dementia-specific programming, including social, educational and recreational routines
Enjoyable small-cluster group activities
Frequent community outings
Inviting, secure places to gather and socialize
Supportive dining environment and specialized nutrition from a dietician
The residents at South Port Square also receive the many benefits of Heartfelt CONNECTIONS – A Memory Care Program®, which is a nationally recognized program that trains caregivers to provide a continuum of care that focuses on the individual person by getting to know each resident on a personal level. This helps caregivers arrange daily activities according to your loved one's preferences, interests and unique needs.
Find Award-Winning Memory Care at South Port Square
South Port Square has been awarded as the best memory care community in Port Charlotte by MemoryCare.com and U.S. News and World Report!
To learn more about how your family member can seamlessly transition from assisted living to memory care at our Life Plan Community, contact our senior living representatives online and we'll be happy to answer all your questions.