Moving into a Senior Apartment? Here Are Five Packing and Moving Tips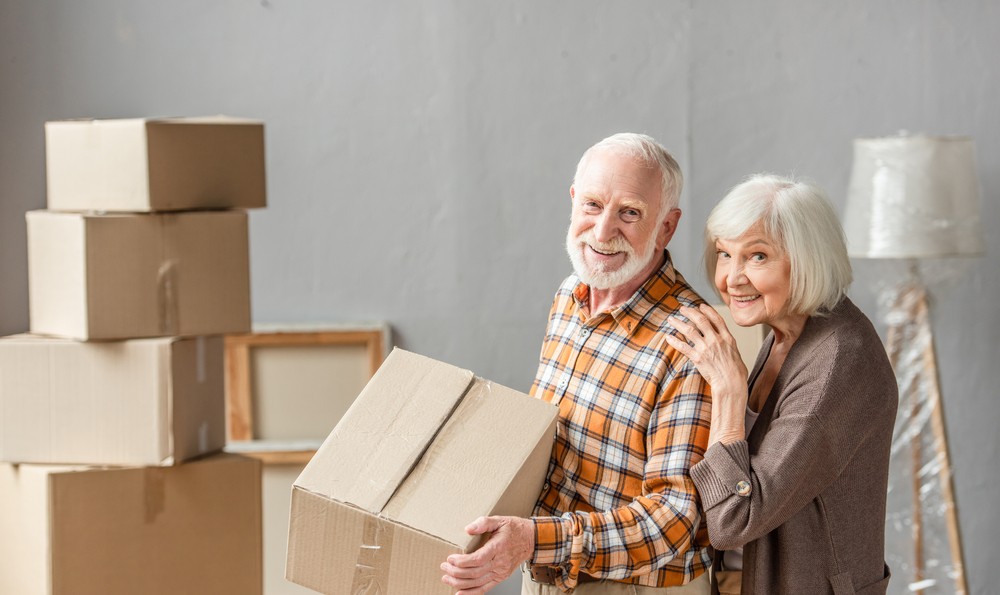 You're ready for a new chapter in retirement with an exciting move to senior living. However, moving from a home where you've spent a good portion of your life requires certain considerations for a smooth transition.
Read these five moving tips for seniors and get ready to live your best life in a community like South Port Square.
1. Look at the details of your new home
Before you pack, carefully go over the details of your new home. Here's what to consider when planning a move to a senior living community:
What your floor plan looks like.
What appliances are included.
How much space you'll have in the living room and bedrooms.
How much closet and other storage space is available.
If your large furniture items will fit comfortably in your new home.
You can easily browse the floor plans of our senior apartments at South Port Square. We have several styles that feature bright, sunny interiors, fully equipped kitchens or kitchenettes and spacious closets. From easy-to-clean studio apartments to spacious two-bedroom apartments, there's a floor plan that suits your lifestyle at our retirement community in Port Charlotte, FL.
2. Get supplies early
One of the best packing tips for seniors is to get your supplies early. It takes several supplies to successfully pack and move your valuables without damaging them. Here's a list of a few moving supplies you should purchase before packing:
Boxes in different shapes and sizes.
Packing tape and packing paper.
Plastic wrap to seal bottles and keep small items together.
Sandwich bags for screws from disassembled furniture.
Supplies to clearly label boxes.
Getting these supplies as soon as you finish your moving plan will save a lot of time when you're ready to dive into a room that needs to be packed and decluttered.
3. Set a timeline for downsizing
Downsizing is certainly a daunting task, but you can start by breaking the process into three simple steps:
Set a timeline and goals. Attempting to declutter and downsize in a short amount of time is stressful. Set a timeline and goals for each room of your house, and set aside regular time every week to sort through your items.
Create a sorting system. Downsizing can be an emotional process, and it's natural to be attached to many of your possessions. However, downsizing is all about simplifying your life. Creating a sorting system will help you part with things you don't need.
Donate ASAP. In order to see progress in the downsizing process, it's important to donate items you don't want as soon as possible. Letting them sit in your home is just moving clutter from one place to another, and it makes it difficult to resist the urge to remove items from the donation pile and add them back into your home.
4. Prepare your pet for moving
With all the hustle and bustle of moving, it's easy to forget about your feathered or four-legged family member. Pets are creatures of habit and routine, and changing their environment may cause them to feel anxious. Though you can't quite explain what's going on to them, there are still steps you can take to help them feel more relaxed about moving.
Avoid changing your pet's routine.
Keep them especially entertained to burn off anxious energy.
Get in touch with your vet, and chat about potential stress-reduction tactics.
Review your retirement community's pet policy.
Pack a separate moving day bag for your pet.
Introduce your pet to your new home slowly. Many moving experts recommend walking your pet through your home one room at a time to give them time for an ample sniff and get used to their new surroundings.
5. Get help when you need it
One of the best moving tips for seniors transitioning into a retirement community is to get help when you need it.
Many moving companies specialize in helping older adults with a smooth transition from their current home to senior living, and most offer services specifically tailored to help the process feel as comfortable as possible, such as downsizing services, in-home and virtual consultations, personalized packing and unpacking services, and furniture assembly.
Don't forget to lean on your friends and family if you feel overwhelmed by moving. Sometimes, it's nice to take a break from the hustle and bustle of packing boxes, and just have a conversation with a loved one about how you're feeling.
Your new neighbors at South Port Square have already been through the moving process and are enjoying their new retirement lifestyle. Ask them to show you around your new community, see how easy it is to meet new people and leave your stress behind.
Find Floor Plans That Make You Feel Right at Home at South Port Square
With a wide variety of floor plan options, our senior living community gives you the opportunity to choose an apartment that's just right for your retirement. Even better, South Port Square offers pet-friendly senior living! To schedule a tour of our community or ask more about our floor plans, contact our representatives online. We're always happy to help!