The Best Arts & Crafts for Seniors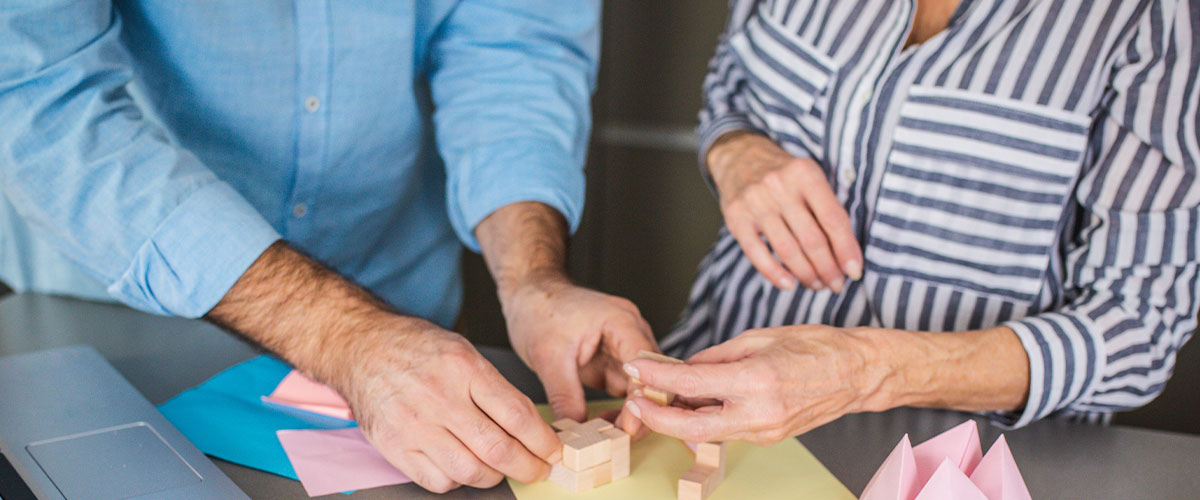 15 Fun and Easy Arts & Crafts for Seniors
Creative ideas you can do on your own or with others
Arts and crafts are something almost anyone can enjoy — whether or not you believe you have any artistic skill. In addition to being useful for stress relief, using your hands to create something new can help fine-tune your motor skills and give you a sense of accomplishment. Plus, crafts for seniors that require concentration and focus can help strengthen memory and cognition. Not to mention, crafting is just plain fun.If you'd like to try a new hobby or craft, the list below has plenty of ideas to get you started.
Birdhouse-building
A great craft for bird lovers, many home improvement stores or online stores offer birdhouse-building kits that come pre-cut. After assembling your birdhouse, decorate it with paint, seal it, then hang it outside and enjoy the company of your new avian friends.
Card-making
Does searching for the perfect card in a store seem to take a lot of time or do you find yourself frustrated in trying to find one with just the right message? Consider purchasing a set of blank greeting cards and envelopes that you can customize for any occasion. You can paint, draw or even make a collage on the front of your card to add personality, then write your own message inside. Making the effort to create a one-of-a-kind card for someone lets them know you really care. And who wouldn't love to receive something handmade in the mail?
Coloring books for grown-ups
Love coloring, but aren't as skilled at drawing? Coloring books for adults have grown popular in recent years, as many find the act of coloring to be a great stress-reliever and a fun creative outlet. They come in a seemingly endless array of subjects and themes, making it easy to find one you'll enjoy using. Then just grab some colored pencils and unleash your inner artist.
Crochet or knit a scarf
With some yarn, a crochet hook or knitting needles, and a bit of practice, you'll be ready for the cold in a scarf of your own making. With an endless choice of yarn types available in myriad colors, you can knit or crochet a scarf to suit your personal style — from fluffy, colorful and big to a smaller, more subtle pattern in a neutral color. This is a great way to accessorize while staying warm, and scarves make thoughtful gifts for friends and loved ones.
Luminarias
Traditionally thought of as Christmas lanterns used in Mexico and made of paper, luminarias are a simple and elegant way to decorate with light for any occasion. To make luminarias that are reusable, start with a glass jar or vase. Then decorate using any materials you like — paint, paper, permanent markers, fabric, lace, artificial snow, ribbon, buttons, etc. The possibilities are limitless. Just be sure to use battery-powered LED candles to light your luminaria for a safe, beautiful glow.
Painting
Are your walls looking a little bare? Try your hand at painting. There are a variety of paints from acrylics and oils to watercolors. Many people find acrylics easiest to work with, but watercolors are another great option that can be layered and mixed with ease. Drawing ability is not required. To create a simple geometric painting, use artist's or painter's tape arranged in geometric patterns across your paper or canvas, then fill the gaps in with paint. If natural forms are more your style, try tracing around the edges of a flower or leaf and then paint it in.
Paper flowers
Paper flowers are a fun way to brighten up a room without the mess of falling petals or the need to water. Paper flowers can be shaped to resemble any flower you'd like and can be fashioned from many types of paper, from tissue or construction paper to heavier cotton paper. Plus, your choice of colors is virtually endless. You can find simple instructions and tutorials on the internet that will show you exactly how to bend and snip your paper. You can make a number of small flowers to create an arrangement in a vase, or a few huge flowers to make a statement on a wall. The only limit is your imagination.
Photo magnets
Do you have some photos you'd like to display, but have a full mantle? It's easy to make your own photo magnets with adhesive-backed magnet strips. Simply cut the photo and magnet to size, peel the backing off of the magnet, adhere your photo and then put your new photo magnet up on your refrigerator or any other ferromagnetic metal surface. (Note that stainless steel will not hold a magnet.)
Quilt-making
Quilt-making has come a long way since our grandmothers patiently hand-pieced fabric scraps with a needle and thread. Today there are a mind-boggling number of gadgets, tools, patterns, and techniques that can ignite the interest of anyone interested in making a quilt. Or if the idea of making a full bed quilt feels a bit overwhelming, consider making a small wall hanging, a table runner, placemats or even coasters. You can use a sewing machine or stitch your project entirely by hand — the choice is up to you. To get started, search the internet for easy quilting and piecing instructions, choose a project that fits your skill level and get started. 
Scrapbooking
Do you have boxes or folders full of photos that recall family events, vacations, or warm memories of everyday life? Why not organize them into a scrapbook? It's a fun great way to get creativity flowing while also revisiting and reminiscing over life's many beautiful moments. Then share your scrapbooks with your children and grandchildren when they visit.
Soap-making
Perhaps you have memories of your mother or grandmother making soap. Maybe you even helped. While homemade soap-making seemed to be a lost art for many years, it has received renewed interest as people have begun paying closer attention to the ingredients used in products. Today, you can find soap-making kits and ingredients at craft stores, and a simple internet search will turn up a variety of recipes and tutorials. If you're a gardener, you can even incorporate some of your own home-grown herbs and flowers such as lavender, rosemary, basil or dried rose petals.
Terrarium
While not technically a craft, if you enjoy gardening, and want to bring a little bit of nature into your home, consider building a terrarium or "fairy garden." Start with a glass container, then add dirt, moss and other compatible small plants. If you're making a fairy garden, you'll find all sorts of small embellishments to add at craft stores and garden centers. This is a fun activity you can do with grandchildren in an afternoon.
Tie-knot fleece blanket
With just a few basic materials — fleece fabric, scissors and a ruler — and no sewing required, tie-knot fleece blanks are an easy and useful craft you can give as a gift or use yourself. Bundle up on a chilly evening for a movie night or spread it out for a picnic on a sunny spring day. With fleece fabric available in a wide variety of colors and prints, you can make a blanket to suit any style or personality.
Throw pillows
Whether you're a sewing machine veteran, or you'd like to try hand-sewing, a throw pillow is simple to make, and can liven up any living space. Throw pillows make great gifts and, regardless of skill level, you can make your own unique pillow in any number of shapes, sizes, and colors.
Wreaths for any occasion
Many people enjoy adorning their doors to celebrate the seasons, holidays and other special occasions. If that describes you, why not make your own one-of-a-kind wreath? Wreaths can be made with any number of materials, from flowers and seashells to ribbons and bows. Just think how proud you'll be to welcome guests to your home with a beautiful wreath that's your own creation.As you can see, there's really no end to the fun and creative ideas you can try — regardless of skill level. Why not choose one that strikes your fancy and embark on a new crafting adventure today?
South Port Square residents enjoy using our community's arts & crafts studio and our woodworking shop to explore all manner of creative pursuits. To learn more about our active, creative community, just call ​941-315-6079. We'd love to answer your questions.