Five generations reunite before latest COVID shutdown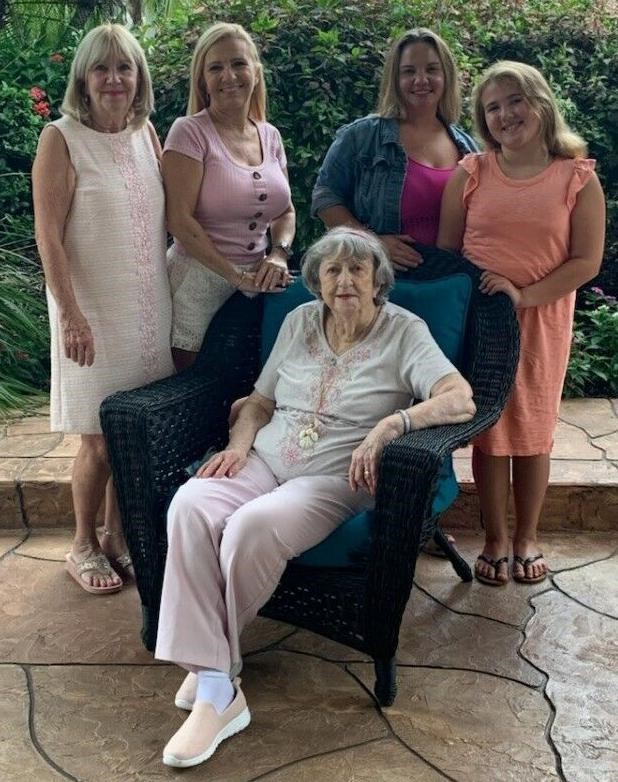 By Nancy J. Seamon | September 7, 2021
PORT CHARLOTTE — Five generations were able to reunite for the first time in three years, shortly before a health care facility shut down again because of COVID-19.
Dee Constantine, of Port Charlotte, and three other members of her family were able to visit their matriarch, Velma Neal, on Aug. 4, after COVID shutdowns and logistical difficulties prevented the family from getting together.
"Mom is 92; we waited to get together, and finally we worked it out," said Constantine.
Constantine recalled the "joyous" day in August when she was able to see her mother, Velma Neal, with the other three generations of her family.
Joining the "reunion" were Constantine's daughter Denise Constantine, Neal's granddaughter; her daughter Kimberly Pennell, who is Neal's great-grandaughter; and Neal's great-great- granddaughter, Harper, who flew in from Maryland with her mother.
"She (Neal) was very excited; not a lot of people have been in and out of the facility," said Constantine.
Neal, who has been a resident of South Port Square's skilled nursing facility since suffering a stroke, had regular visits by daughter Dee, granddaughter Denise, and great-granddaughter Kimberly until the pandemic, said Constantine.
"It is very sad for these seniors" she added. "It's so depressing for all of the families."
Whenever a healthcare facility has a COVID-19 case among residents, no visitors are allowed, Constantine explained. And there have been several of those occasions when no one was allowed to visit at South Port Square.
"The last time all five of us were together was in August 2018," Constantine said.
She said her mother's parting words to her were, "Am I ever going to see you again?"
Meanwhile, Constantine said, the family is looking forward to seeing Velma Neal again when either the shutdown and/or pandemic ends.