How to Make A Studio Apartment Feel Spacious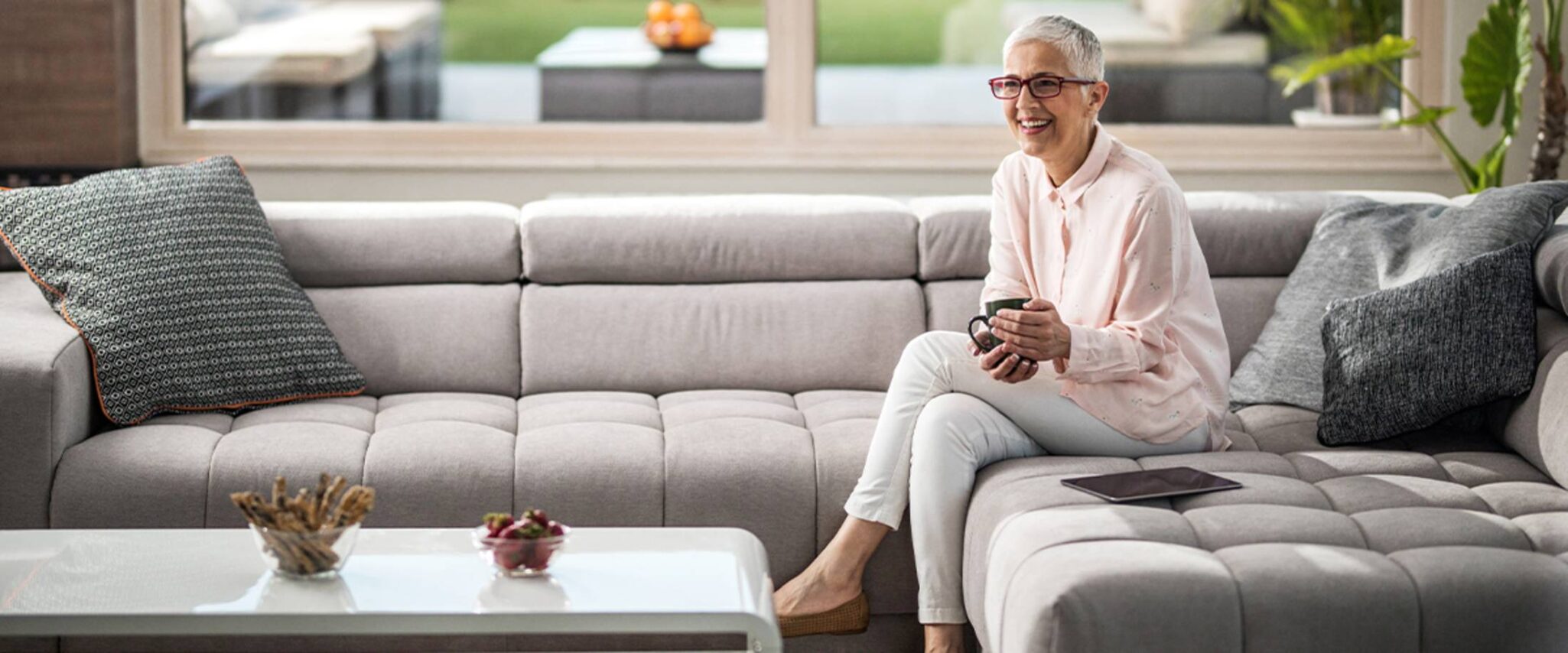 Decorating a Studio Apartment
As you begin your new life in a senior living community, transforming a new residence into a comfy nest is an exciting part of settling in. If you're downsizing to a studio apartment, this may be the first time since your younger days that you've lived in a smaller space. It's helpful to know how to decorate a studio apartment and make wise use of the square footage while expressing your personal style. We'll help you embrace this opportunity for your affordable, maintenance-free retirement with a list of studio apartment ideas.
Find a Balance
Learning to live small starts with a smart approach to what you bring with you. Long before you pack your bags and move in, you should spend quality time with the possessions in your current home. Evaluate them in light of the space you're moving into and pare down what you need. The KonMari method from tidying expert Marie Kondo asks, "Is it useful? Is it beautiful? Does it bring you joy?" Answering those questions will help you decide which items should stay and which should go.
What Makes You Happy?
Do you love to entertain? Will you grow flowers on the patio? Relax on the couch with a book? Whatever makes you happy, consider how to create a comfortable, useful zone where you can do it. If you're like many busy seniors who only use their studio apartments for eating and sleeping, why not imagine yours as a deluxe hotel room? Create space for a writing desk, a small seating area, a mini-bar and, most importantly, a comfortable bed decked out in high thread count linens. On the other hand, if you see yourself spending more time reading and relaxing, make your sofa the star of the show. Select a luxurious daybed for a comfy place to lounge, with a pull-out trundle bed for guests.
Use Neutral Colors
One of the first steps in how to decorate a studio apartment is to keep wall colors neutral. This creates a sense of space and continuity between rooms. If you're not able to paint the walls, try removable peel-and-stick wallpaper for the effect you want. A neutral background makes it easier to add accessories with strong patterns or colors and switch them out when you need a change.
Divide and Conquer
The open concept of a studio apartment gives you the opportunity to personalize smaller zones for how you'll use the space. Use room dividers to carve out distinct zones for eating and sleeping. Try a vertical screen that's made of glass panels or other see-through material that lets light through, so there's a sense of separation but not an actual visual barrier. You can also position a tall bookcase or folding screen, or hang room-divider curtains to section off a private space.
Transforming Furniture
Successfully downsizing to a studio apartment entails the use of multifunctional furniture. You're probably familiar with Murphy beds, but there's a great deal of cleverly engineered space-saving furniture that you may not know about: Beds with gas-lift platforms that reveal storage underneath. A single bed that unfolds upwards into a bunk bed. Coffee tables that convert into dining tables. Modular couches that can be rearranged into separate seats. Wall shelves that can be pulled down into a desk. There are many interesting choices to explore. On the other hand, if you can't bear to part with a favorite piece of furniture, see if you can repurpose it. For example, try using your old china cabinet as a pantry. Or use it to store linens.
For Safety's Sake
As you plan your studio apartment décor, don't neglect your own safety. Many senior living apartments are preinstalled with safety features so you may not need to add grab bars in the shower, tub or toilet.  While you browse in a home store, remember to purchase nonslip strips for your bathtub or shower floor, and gripper pads for underneath rugs. Don't bring rolling office chairs or any furniture items made of glass or with protruding edges into your studio apartment. Your home should be safe as well as beautiful.
Our 14 Favorite Studio Apartment Ideas
1. Create a living area with seating near your entryway, placing your bed as far away as possible.
2. Install wall sconces instead of lamps to save space and brighten up an enclosed area.
3. Hang curtains close to the ceiling molding to draw the eye upwards for a sense of height.
4. Use mirrors to brighten up the space and make it feel bigger.
5. Feature one large piece of artwork rather than several smaller pieces for a clutter-free look.
6. Match your sofa to the wall to make it fade into the background so the room feels bigger.
7. Keep furniture sleek so that it doesn't add bulkiness to your studio apartment décor.
8. Line shelves with baskets to reduce visual clutter and store small items out of the way.
9. Add a small chair or a padded banquette in an unused corner for extra seating.
10. Use rugs to define different zones and give your apartment character.
11. Look for small-scale versions of your favorite pieces (e.g., a love seat instead of a sofa).
12. Combine your patio plants into a single planter rather than growing them in several pots.
13. Design a hidden space for your pet's bed in a low cabinet or bottom of a closet.
14. Optimize every recessed nook and cranny with right-sized furniture for storage or seating.
At South Port Square, our studio apartments are wonderfully bright and sunny with large windows. They feature large closets and a covered lanai with French doors. You're welcome to choose your favorite flooring and paint colors, and of course our community is pet-friendly too! Explore our wide variety of senior living floor plans and reach out to us to see about their availability.