7 Most Important Things Your Senior Living Community Should Have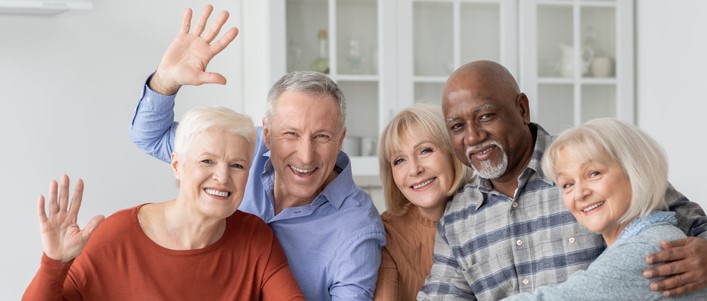 The landscape of senior living communities has undergone a remarkable transformation over the years. Gone are the days of sterile and clinical environments. Today, retirement communities are vibrant, welcoming and designed to provide a fulfilling and enriched lifestyle for older adults. Perfunctory services that prioritized function over comfort is a thing of the past. With the evolution of these communities, knowing what to look for in a senior living community might not be as intuitive as you'd imagine, and choosing the right community for you should be a carefully thought-out decision. As you research and visit communities on your senior living search, consider these crucial factors that can make your life easier and more enjoyable in retirement.
1. Senior-Friendly Apartments
When evaluating senior living communities, it should be a top priority to assess the quality and accessibility of apartments. Look for communities with residences that allow older adults to age in place safely and encourage residents to maintain their independence. These may include step-in showers with grab bars, easy-to-reach kitchen cabinets and well-designed living spaces that promote independence. A focus on creating an environment that accommodates the unique needs of older adults ensures a comfortable and secure home.
2. Nutritious and Delicious Food
A healthy and enjoyable dining experience is vital for overall well-being, and is often a key differentiator for potential residents. Look for senior living communities that provide nutritious and delicious meals prepared by skilled chefs. These communities should take into consideration dietary restrictions and personal preferences, offering a variety of menu options. By focusing on providing a balanced and flavorful dining experience, a community can give residents meals they can enjoy that nourish both the body and the soul. Ask any community you're interested in if you can visit and have a meal to sample their dining and see if it's a place you'd like to eat at regularly.
3. Engaging Events and Programs
A vibrant social life is the cornerstone of a fulfilling retirement. When exploring communities, inquire about the range of events and programs they offer. Look for communities that provide a diverse calendar of activities, including fitness classes, arts and crafts, educational workshops, cultural outings, and social gatherings. Also try to talk to residents to hear directly from the source whether the community promotes engaging activities for active seniors. Events, activities and clubs foster a sense of belonging, stimulate the mind and encourage residents to embrace an active and fulfilling lifestyle.
4. Personalized and Compassionate Care
One of the most critical aspects of a senior living community is the quality of care provided. After all, moving to a community is the last move you'll want to make. Whether you're looking to enter independent living, assisted living or other levels of care, you should inquire about every care option the community offers. In a Life Plan Community like South Port Square, you'll find a full continuum of quality care that will support you as your needs change for as long as you live in the community.
Seek communities that prioritize personalized care plans tailored to individual needs. Compassionate and well-trained staff members should be readily available to provide assistance with daily activities, medication management and healthcare coordination. A commitment to person-centered care guarantees that residents receive the support they need to thrive physically, emotionally and socially.
5. Good Staffing
The staff at a senior living community plays a crucial role in enhancing residents' quality of life. Look for communities that maintain a high staff-to-resident ratio, ensuring that individualized attention and care can be provided. In receiving any kind of care, you want to know consistent providers on a personal level so they can cater to your personal preferences and needs. Additionally, inquire about the training and development programs in place for staff members, as this reflects a commitment to compassion, empathy and professionalism. You can easily find information about any community's staffing through the Centers for Medicare & Medicaid Services website, as well as other information like a community's care rating.
6. Cleanliness and Maintenance
Maintaining a clean and hygienic living environment is essential for the health and well-being of residents. When visiting senior living communities, observe the cleanliness of common areas, apartments and outdoor spaces. A commitment to cleanliness demonstrates the community's dedication to providing a safe and comfortable living environment. By prioritizing cleanliness and regular maintenance, senior living communities create a space where residents can thrive and feel at ease.
7. Services and Amenities to Make Life Easier
Modern senior living communities go beyond meeting basic needs. Look for communities that offer an array of senior living services designed to make life easier and more enjoyable. Look for communities that provide services such as housekeeping, laundry, transportation and 24/7 security to ensure peace of mind. Additionally, senior living amenities like fitness centers, libraries, beauty salons and gardens contribute to a well-rounded and engaging lifestyle. Communities today offer an ever-growing variety of activities, clubs and amenities that speak to a wide range of personal interests and preferences. Be sure the community you're considering offers the kinds of amenities and activities you'll love. By providing these kinds of services and amenities, communities aim to enrich residents' lives and simplify daily tasks, allowing them to focus on pursuing their interests and passions.
South Port Square Checks Every Box
Today's senior living communities have evolved from clinical environments to warm, inviting spaces that prioritize personalized care, engaging activities, delicious cuisine and an abundance of amenities. When deciding for yourself what to look for in a senior living community, look no further than South Port Square. Our vibrant lifestyle encourages residents to embrace opportunities to enjoy an active and fulfilling retirement in a clean and absolutely gorgeous environment that provides the care, comfort and support you deserve.
Now more than ever, South Port Square is proving that modern, upscale senior living is here to stay. Even now, we're renovating our assisted living building to meet the growing needs of residents and provide all the senior living perks we've covered above. Call us today at 941-315-7487 or contact us through our website to learn how South Port Square is leading the way for modern senior living.