Great Rooms Come in Small Packages: How to Make a Small Space Look Bigger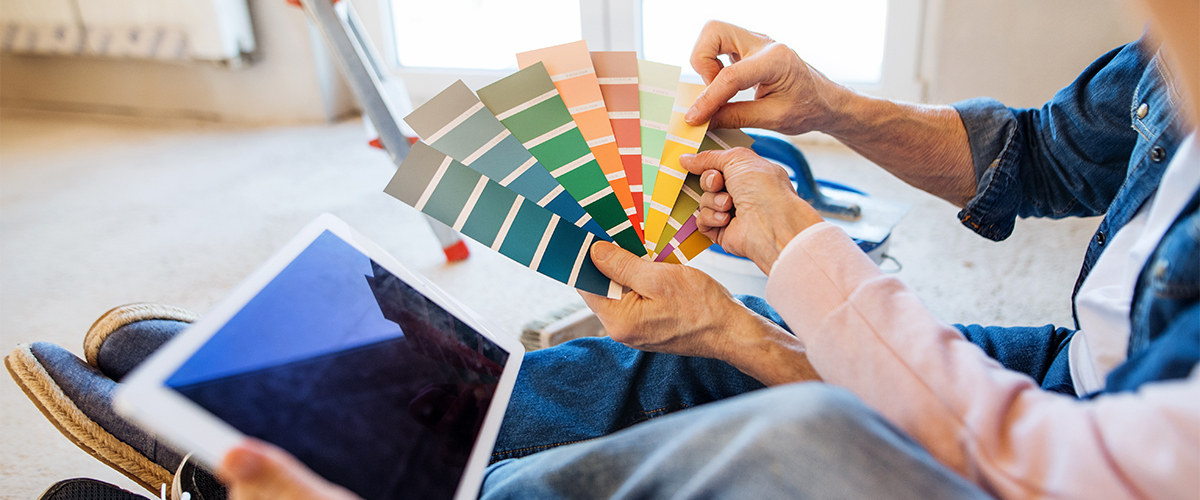 Residents at South Port Square design beautiful living spaces in all of the available floor plans. We've seen people take a studio apartment and make it feel like an oasis. Since we've seen them create so many beautiful senior apartments, we thought we'd share some of the tried-and-true wisdom we've gathered for how to make a small space look bigger.
7 Small Apartment Decorating Ideas:
1. Start with a neutral backdrop.
Light, airy walls and ceilings will make any space seem bigger. For added effect, paint the walls in every room the same color, then you can use furniture and accents to distinguish each room, but the cohesion will give the overall impression of a more expansive residence.
2. Look up.
Draw the eye upward, even if your ceilings aren't particularly high. Hang curtains at the ceiling instead of the top of the window and let them drape all the way to the floor. Utilize vertical storage, like tall bookshelves, putting decorative items higher and everyday necessities within closer reach. The more you make use of the entire height of the room, the bigger the space will feel.
3. Let the light shine in.
Prioritize natural light. A bright room adds to the sense of size. You can also place large mirrors on walls without windows, so they reflect light back. Choose window treatments in softer colors and fabrics, so they diffuse light but don't block it. Or you can opt not to hang curtains for a more modern, minimalist look.
4. Brighten dark corners.
In every residence, there are a few spots where the sun just doesn't reach. These corners provide great opportunities for a beautiful lamp, sconce or — as previously mentioned — a mirror. Having multiple sources of light instead of relying simply on the overhead lighting will give your apartment a look of more depth and ambience.
5. Use your walls.
Utilize your walls whenever possible instead of taking up floor or table space. Sconces may be a great solution to free more of the surface on end tables or bedside tables. To create more space in an entryway, you can select a two-legged console table that screws into the wall, saving precious inches. You can also create an impressive visual impact by placing large art pieces on the wall, even in a small room. It creates a focal point in the space.
6. Curate — don't clutter.
Many tiny knickknacks around the room can create a chaotic feel. Fewer items that are larger in size will make for a cleaner, more polished look. If you do have tiny prized keepsakes that you want to display, curate them into thoughtful vignettes, so they look intentional within the space.
7. Remember the resources you already have.
If you're moving into a community with abundant amenities, keep them in mind when you're doing your final edit of your senior apartment. You may not need a bar cart when you can pop down to the pub with friends. Or maybe you donate your hand weights because there's already a supply in your new fitness center. You may even need fewer dishes or kitchen appliances than you thought because you'll regularly eat delicious chef-prepared meals in the dining room. You don't have to give up anything that's really important to you, but your access to an expansive campus can help you significantly pare down what you need in your residence.
If you'd like to know more about the senior apartments and available floor plans at South Port Square, contact us. We'd be happy to provide further information.